Help protect your residents and staff

Keep the most vulnerable safe
Do you have the right procedures in place to protect your staff and residents?
What are you doing to keep the air in your facility clean?
Create a healthier environment by removing 99.99% of airborne pollutants down to 0.1 micron!
Removing pollutants from the air can lead to several immediate and long term health benefits
Benefits of using the Defender include:
  • Improving sleep
  • Neutralizes unpleasant odors
  • Relieves symptoms of asthma
  • Removes allergens and dust
  • Reduction of respiratory diseases and airborne infections
  • Removal of pollen caused by plants

FilterQueen® Defender Air Purifier
The Defender Portable Room Air Purifier uses its proven technology to create a cleaner, healthier indoor environment that is protected from harmful pollutants.  
Why choose the FilterQueen Defender Air Purifier?
✓ Recognized as a Class II Medical Device
✓ FREE 1 year supply of filters included

✓ Lifetime perpetual warranty

✓ Built in the USA
✓ 3x better than HEPA filtration
✓ Used in hospitals
✓ Quiet, 24-hour operation
Removes 99.99% of pollutants such as:
• viruses • bacteria • pet dander • allergens • dust mites • mold spores • airborne chemicals • smoke particles & odors • noxious gases  
Includes:  (1) Medi-Filter and (2) Enviropure Charcoal Filter Wrap (2) Signs for your business doors.  
Limited Time Offer!
$50 off, Free Shipping & 1 Year of Charcoal Wraps
(over a $100 value!)
Order 5-9 to receive $100 off EACH Defender!
Order 10-14 to receive $150 off EACH Defender!
Additional discounts on 15 or more, call 440-846-7830 for details.



We offer a LIFETIME perpetual warranty for the Defender Air Purifier. Purchase and replace your Medi-Filter Cartridge each year and enjoy a lifetime of clean, purified air.

FDA Class II Medical Device
The Defender is recognized by the FDA as a Class II Medical Device and is hospital tested.

Our manufacturing and assembly plant is located in Ohio. We have been building FilterQueen products right here in the USA.
Quick Reference Guide for Nursing Home Administrators & Staff
The Defender meets the following EPA guidelines

(ozone is harmful to the environment)

(UV light is ineffective, costly and dangerous)

Effective filtration capability
How does the Defender work?
The lower half of the Defender pulls air in from every angle, no matter which way the machine is facing.
Air filters through the Enviropure Activated Charcoal Wrap, capturing numerous types of harmful VOCs and unwanted odors.
Air filters through the better-than-HEPA Medi-Filter Cartridge, capturing harmful particles down to 0.1 micron in size.
(4) - 360° of Purified Air
The Defender circulates clean air back into the room from the top half of the machine.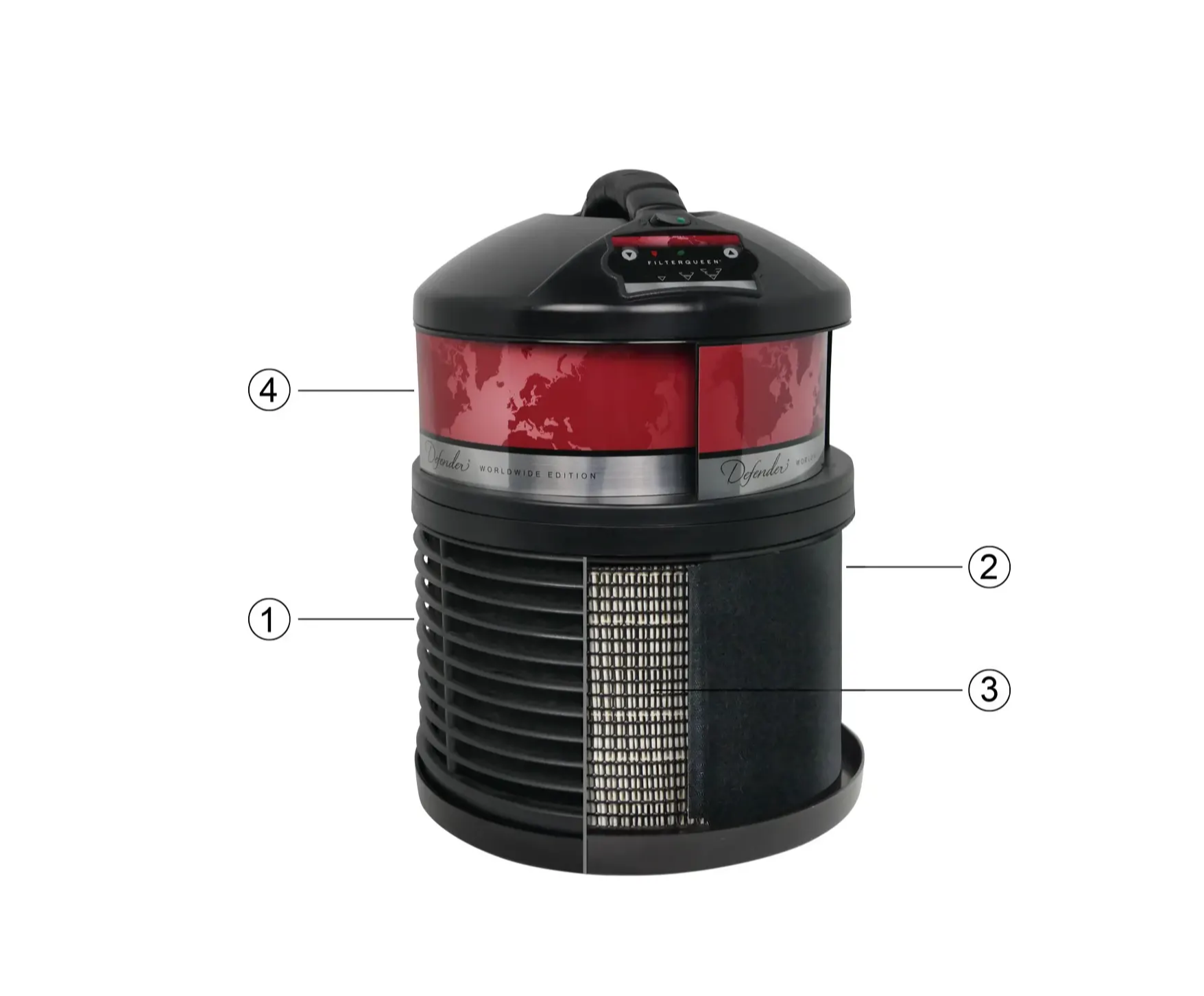 ---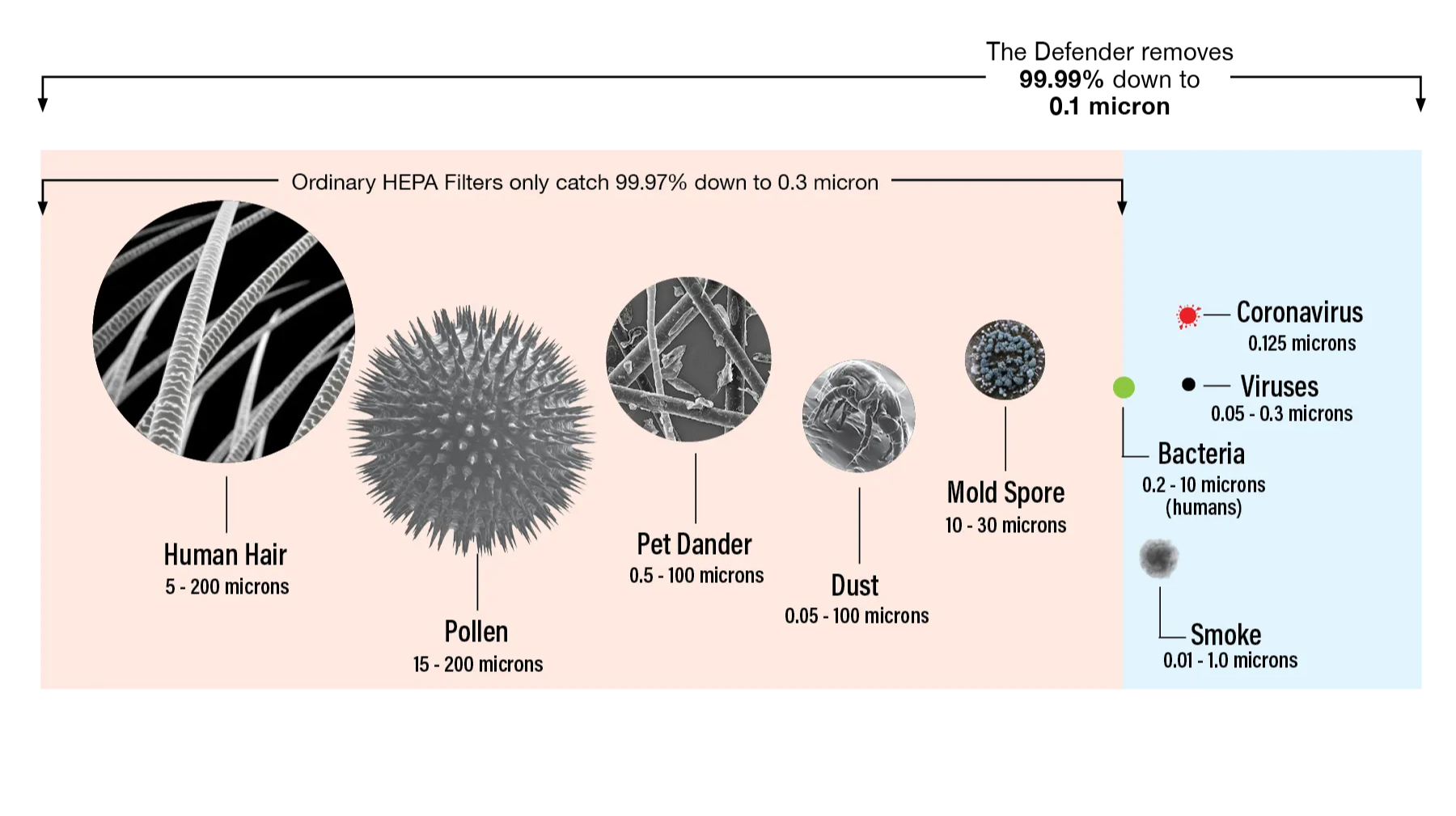 3x better-than-HEPA filtration

HEPA is the industry standard (99.97% at 0.3 micron). Our filters have been independently tested to remove 99.99% of particles down to 0.1 micron.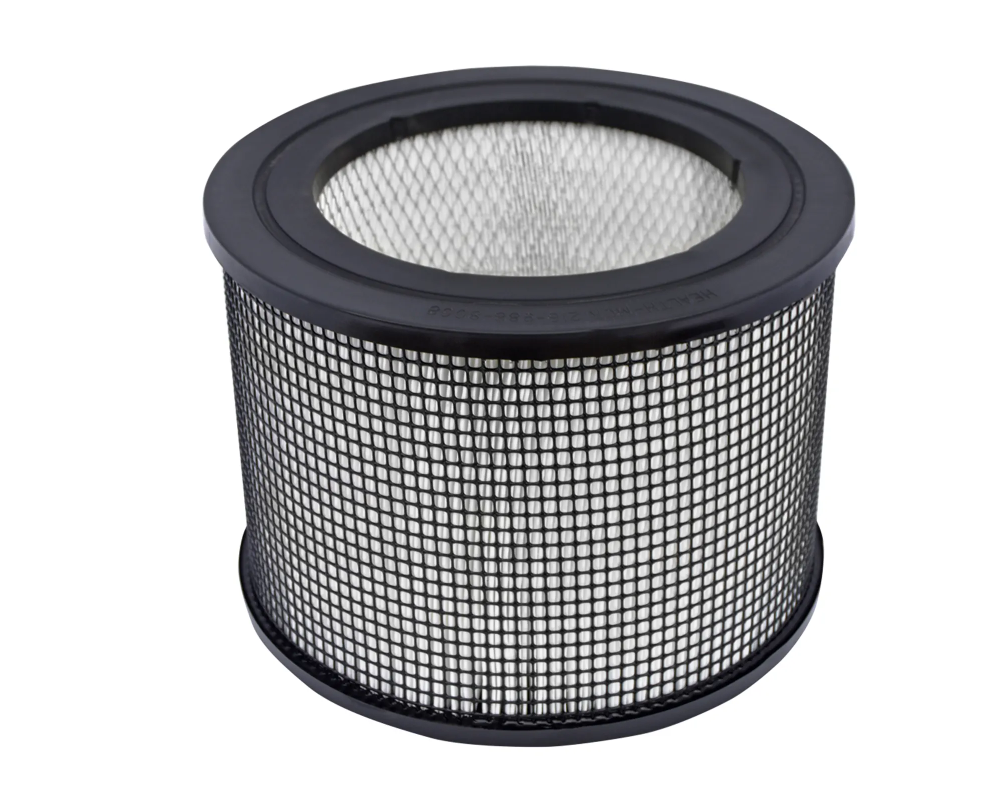 Provides three times better-than-HEPA filtration to remove pollutants such as dust, dust mites, and mold spores.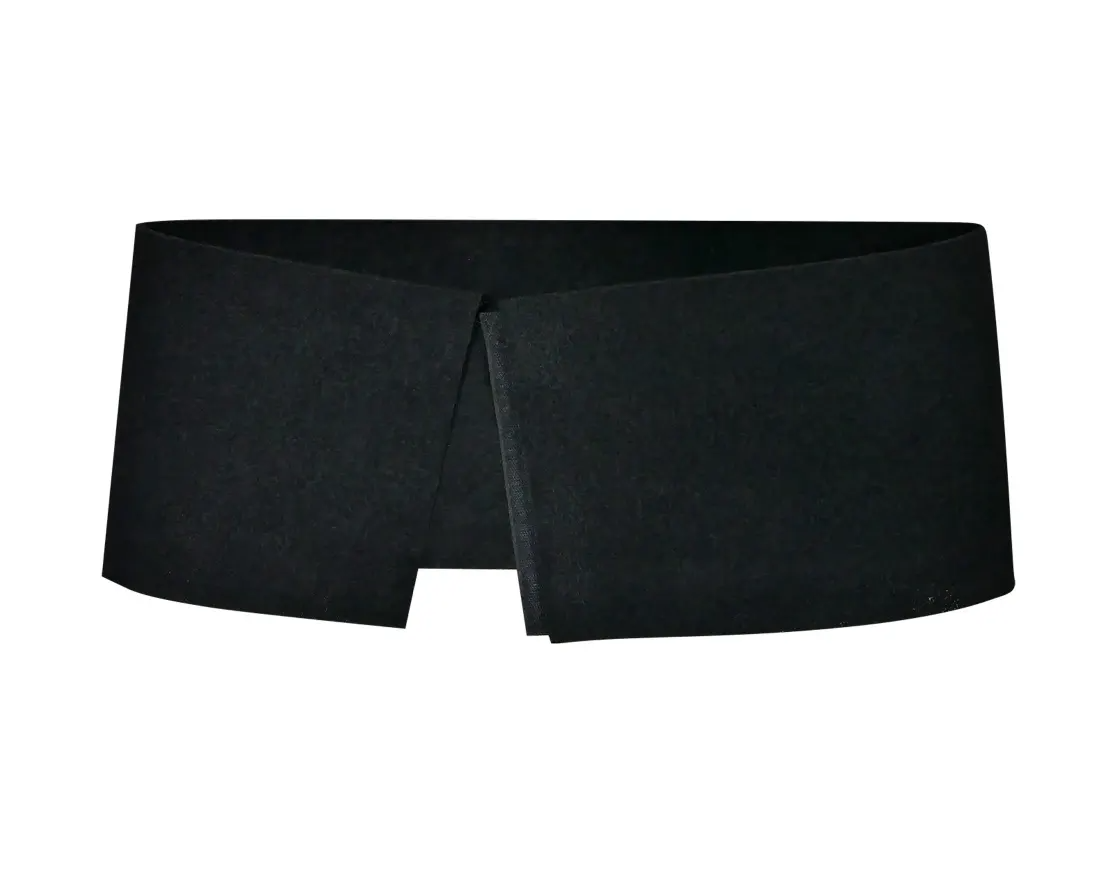 Made with HEGA (High Efficiency Gas Absorption) material, which is highly effective at removing pollutants such as tobacco smoke, pet odors and lingering cooking odors.


A company with an A+ rating from the Better Business Bureau.
Helping families live better since 1928.
Products proudly built in Cleveland, Ohio.


17.5" height x 12.25" diameter

Brushless high efficiency motor
(1000,000 hours expected life)
120V / 60Hz / 85W

0.90 (high)
0.43 (medium)
0.27 (low)

Standard 110/120 U.S. Outlet

High Speed - 65 decibels
Medium Speed - 56 decibels
Low Speed - 46 decibels


Bacterial Filtration Efficiency (BFE):